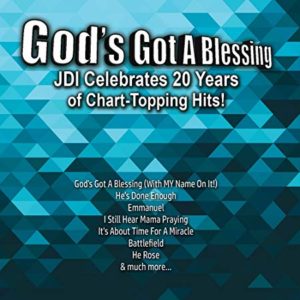 Various Artists
God's Got a Blessing
JDI Records (release date: May 18, 2018)
By Bob Marovich
In 1998, with $7 in his bank account and a load of student loan debt, James Roberson stepped out on faith and started JDI Records (as in Just Do It). He celebrates the company's 20th anniversary this year with a greatest hits package called God's Got a Blessing.
JDI has been mining its catalog seven ways to Sunday recently, having released The Essential Beverly Crawford Vol. 2 and JDI Classics – Music for All Occasions. God's Got a Blessing is the best of the three because despite a fair amount of song overlap with the other two projects, this particular track list seems to work better. Perhaps it comes down to the fact that this album contains a more compatible and soul-satisfying selection of Sunday morning songs.
For example, most of the selections feature hard-charging lead singers with choral background. Most all of the songs lean to the traditional side of the spectrum, too, no more so than those by Beverly Crawford, whose "It's About Time for a Miracle" has all but become her signature selection. Norman Hutchins' "Battlefield" is also included, as is the song that gives the project its title, Hutchins' "God's Got a Blessing (With My Name on It)." In fact, Hutchins contributes nearly half of the eleven songs on the collection. Crawford has two, Chester D. T. Baldwin also has two, and Brent Jones and Roberson contribute one each.
Being a "best of" package, God's Got a Blessing includes no new songs or unreleased selections, though the project would have been even better had it included one or two previously-unheard cuts. Nevertheless, the number of up-tempo as well as passionately rendered pieces on the album, plus its crystal-clear production, make God's Got a Blessing worth a listen. Looking forward to hearing new music from JDI in 2019!
Four of Five Stars
Picks: "It's About Time for a Miracle," "Battlefield"