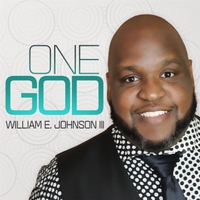 William E. Johnson III
One God
WEJ Music (release date: January 28, 2017)
https://store.cdbaby.com/cd/williamejohnsoniii
By Bob Marovich
The Latin words on the Great Seal of the United States, e pluribus unum (out of many, one), could be the subtitle of William E. Johnson III's One God.
Unified praise by a community of worshipers to one God with many names is the thematic and musical thread running through the Los Angeles-based Praise and Worship leader's album, recorded live at Antioch Church of Long Beach, California.
Johnson's high tenor is pulpit-honed, big and bold. It lends muscle to the album's energetic opening track, "We Are One." This cut establishes the album's theme of unity, while the title track finds Johnson musing on the many names for God who has infinite abilities but one presence. His passionate delivery nearly turns "Great I Am," another reflection on the names for the one true God, into a praise break.
Notwithstanding the spirited opening, the album's highlight is "You Are Holy," a slow, simple worship song with a lovely melody. It is reverently rendered by Johnson and the Echoes of Worship, a group Johnson founded in 2002. Echoes of Worship deserves as much attention as its leader for its creamy, flowing harmonies and skilled vocals.  Its talent is best expressed on "My Desire."  Not having to support a lead singer allows the group to spread its wings.
"My Desire" and "Great Jehovah" are slower and more introspective than the outsized "We Are One," but they better demonstrate the ensemble's vocal agility and sweet spot.
One God is a P&W album designed to teach worship teams new songs and to provide P&W enthusiasts with nearly an hour of worship time.
Three of Five Stars
Pick: "You Are Holy"