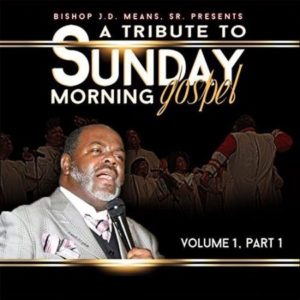 Bishop J. D. Means Sr. Presents
A Tribute to Sunday Morning Gospel,
Volume 1, Part 1
Mean Means Music Group
http://bishopjdmeanssr.com/
By Bob Marovich
In his introductory remarks on A Tribute to Sunday Morning Gospel, Volume 1, Part 1, Dr. R. L. White Jr. says that we have greatness all around us but we fail to recognize it.
He is speaking specifically of the greatness of Bishop J. D. Means Sr., but his words also ring true about the venerable hymns and gospels of the church. In our quest for the newest and hottest, we leave some of the most meaningful music gathering dust in hymnbooks.
Not if Bishop Means can help it.  The Senior Pastor of The Pleasant Grove Baptist Church in Newborn, Georgia, loves the old time way, and is clearly not afraid to sing about it.
On Tribute, he and a congregation of vocalists and choristers delight in the stalwart songs of the African American church. No stranger to traditional gospel—he has worked with Evangelist Dorothy Norwood and other legendary artists, and has impacted gospel radio with his own trad fare—Means uses this hour-plus long CD to reminisce about the "old church." His quartet-fired voice leads the raising of one classic after another.
The listener can hear congregational glee as beloved nuggets such as "Trouble in My Way" (listed here as "Jesus Will Fix It"), "Stand By Me," "Amazing Grace," and the devotional "I Will Trust in the Lord" are rendered. Accompanying the singing are organ and piano accompaniment, Roberta Martin-style intros, call-and-response, a praise break and even the COGIC "Yes Lord" chant. Means pauses frequently between songs to recall what the "old church" pastor, musicians, singers, and congregation would do and how they would respond to certain songs and circumstances.
Means doesn't keep the mike to himself. He passes it to other traditional-tinged vocalists, including Annie Ruth Paulhill, Roxanne Broadnax, Lady Voncile Belcher, Pastor Ron Dailey, Rev. Arthur L. Powell, and Dr. White, himself no stranger to traditional gospel music.
The album's single, "Praise Him," is a cover of the Donnie Harper-penned devotional originally recorded by the New Jersey Mass Choir in the 1980s. The choir sings with fidelity to the original while Means unpacks a toolkit of lead vocal histrionics.
Not until the end of the album/service, with "Everything Will Be Alright" and "Your Tears," does the music turn slightly contemporary. Even here, the assembly delivers the two songs in the style of "Praise Him," the textured mass choir sound with a churchy spine that is fast becoming traditional for a generation that grew up on James Cleveland, Charles Nicks, Keith Pringle, Ricky Dillard, and others.
Not since Bishop G.E. Patterson's outstanding two-volume Singing the Old Time Way has the "old church" received such a righteous and rousing remembrance. Let's hope Bishop Means, like the late Bishop Patterson, has a second volume of church classics up his sleeve.
Five of Five Stars
Picks: "Praise Him," "Sunday Morning Praise Medley"