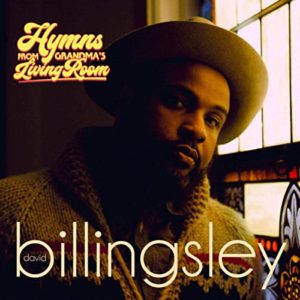 David Billingsley
Hymns from Grandma's Living Room
Intersound (release date: May 15, 2020)
www.billingsleymusic.com
By Bob Marovich
Having reviewed pianist David Billingsley's second album, House of David, Volume One, JGM now works backwards to review his debut, Hymns from Grandma's Living Room.
A musician and arts educator, Billingsley dives into the hymnbook as if he's heard and performed these songs his whole life, which of course he has. He imbues the timeless melodies with the respect and dignity they deserve, accentuating them deftly rather than obscuring them with an overabundance of runs and ornamentation.
That's not to say that Billingsley doesn't bestow each of the hymns with some special sauce. For example, on "Oh How I Love Jesus," he works in the false endings and improvisational moments that one hears at a gospel program and during church solos. He adds ragtime rhythm to "This Little Light of Mine," the jazziest up-tempo arrangement on the album. Bluesy accents and Roberta Martin-style piano fills brighten Fanny Crosby's nineteenth-century tent revival favorite, "Blessed Assurance."
"It Is Well With My Soul," which includes a heartwarming introduction from the grandmother who is source of his tribute, opens the set. The only original selection, "Altar Call," closes it. These two tracks contain the album's only spoken portions.
As with House of David, Volume One, Billingsley's deft delivery tends toward the introspective and reflective instead of showy and extroverted, thus making this album an ideal soundtrack for solemn church functions or moments of meditation. Indeed, it has the feel of a piano recital without a live audience, where the sacred songs aren't stuck at the end but are in the beginning, middle, and end.
Listeners will welcome each song like an old friend.
Four of Five Stars
Picks: "It Is Well With My Soul," "This Little Light of Mine"