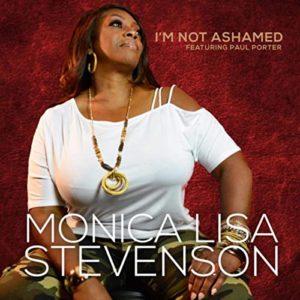 "I'm Not Ashamed"
Monica Lisa Stevenson feat. Paul Porter
Puretonez Productions (release date: September 8, 2020)
By Robert M. Marovich
You can't go wrong pairing Monica Lisa Stevenson and Paul Porter on a song brimming with evangelism.
The two traditional vocalists sing and shout like veteran evangelists as the musicians and BGVs offer shoulder-shaking support. Former Christianaires member Porter lofts falsetto notes while Stevenson digs deep to deliver bluesy runs. Their most simmering singing occurs during the vamp, when they move, like preachers, from a reasoned to a more emotional testification.
"I'm Not Ashamed" is written by VaShawn Mitchell and produced by Thomas Hardin Jr. and MLS's husband, Derrick Stevenson. While Mitchell is better known for penning P&W ballads, he is from Chicago and worked with Greater Holy Spirit Church, so he knows a thing or two about the churchier side of religious music.