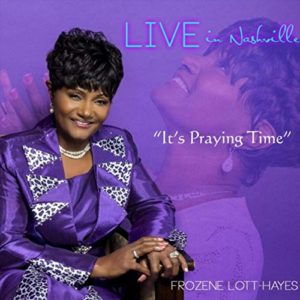 "It's Praying Time"
Frozene Lott-Hayes
Lothay Music (release date: February 1, 2019)
By Bob Marovich
To a live audience at Mt. Gilead Baptist Church in Nashville, Tennessee, traditional gospel singer Frozene Lott-Hayes renders this mid-tempo golden oldie with lyrics that are (unfortunately) as pertinent today as they were back when the Miami Mass Choir did it more than twenty years ago.
"Wars and rumors of wars. . .earthquakes, famine, and diseases," Frozene declares, reminding listeners that if ever there was a time to pray, it's now. Her shifts from straight singing to growling to shouting are ideal for this song, as well as its flip side, Dorothy Love Coates' timeless "The Healer," which is as good, if not better than, "It's Praying Time."
Nate Bean & 4Given provide the full-throated background vocals, especially during the vamp of "It's Praying Time," when Frozene interpolates the lines from The Lord's Prayer. Richard Gibbs, go-to musician and son of the late Inez Andrews and Soul Stirrer Richard Gibbs Sr., handles organ. Delightful.