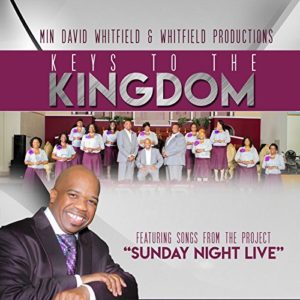 "Keys to the Kingdom"
Min. David Whitfield & Whitfield Productions, feat. Lena Starks
Choirboi Records (release date: March 16, 2018)
By Bob Marovich
On this church rouser, Angelique "Lena" Starks, a sparkplug of a lead vocalist, breaks it down: you don't have to be rich, or a doctor or lawyer, or even a warrior, to make it to Heaven. Just "be holy, be righteous," she sings.
Known to enjoy singing to a quick tempo, Starks gets downright evangelistic on the vamp as the choir supports her with lyric responses and handclaps.
Min. David Whitfield & Whitfield Productions carries on the contemporary choral tradition of David's uncle, the late Thomas Whitfield. First called Whitfield Family & Friends, the group traces its founding to a May 18, 2001, concert at Faith Tabernacle Church in Highland Park, Michigan, where a group of 30 family and friends came together to sing. Their first live recording, It's Gonna be Alright, was released in 2003.
JGM extends its sympathies to Lena Starks and her family on the recent passing of her father, the Reverend C. James Starks.