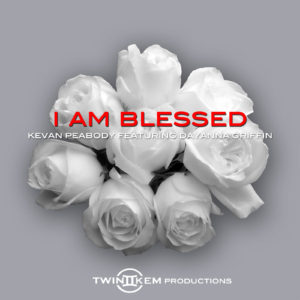 "I Am Blessed"
Kevan Peabody and Dayanna Griffin
Twinkem Productions
www.twinkemp.com
Leave it to veteran Bay Area gospel artist Kevan Peabody to keep the traditional style alive.
Teaming with Lady Dayanna Griffin, Peabody extols the wonderfulness of being blessed and highly favored with a cornucopia of blue notes, while Griffin follows suit with melismatic runs that evoke Kim Burrell or a Clark Sister.
The BGVs and musicians, especially the tinkling piano and chortling organ, hold down the rocking chair rhythm, confirming the song's trad cred even further. Still, the ensemble doesn't overdo it, giving the single an intimacy that recalls a church performance.
Originally from East St. Louis, Peabody has made his mark in the Bay Area, having worked with the likes of Edwin Hawkins, Ambassador Dr. Bobby Jones, Lawrence Beamen, and Emmit Powell & the Gospel Elites.  Dayanna Griffin, who has her own ministry, is known for her 2015 single, "I'm Not What You See."