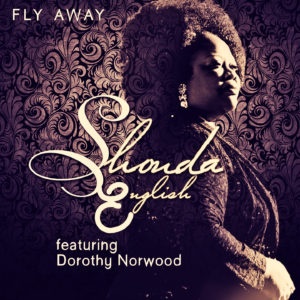 "Fly Away"
Shonda English feat. Dorothy Norwood
Available at digital music stores
www.shondaenglish.com
By Bob Marovich
It might be intimidating to duet with a legend such as Dorothy Norwood, but to Shonda English, The Storyteller of Gospel is "Aunt Dot." It was "Aunt Dot," in fact, who brought Bob Jeffreys and Sanchez Harley's easy-going, bittersweet "Fly Away" to her attention.
Good timing. English was just getting over the loss of her father, Bishop W. T. English, and needed some inspirational cheering up. "Fly Away" fit the bill.
Reflecting on the day they will fly away to the resting place where they will meet their loved ones and fly no more, English and Norwood trade leads riff for riff, shout for shout, moving couplet for moving couplet. Until then, Norwood sings, she's preparing her wings to fly, and references two classic gospel songs on the same theme, "Two Wings" and "Walk Around Heaven All Day." A good traditional-sounding gospel with strong southern roots.
English's second solo album, Travelin', is scheduled for a fall 2017 release. Meanwhile, she carries on the family tradition as music director for her late father's church, Greater St. Paul Non-Denominational Church in Sumter, South Carolina.