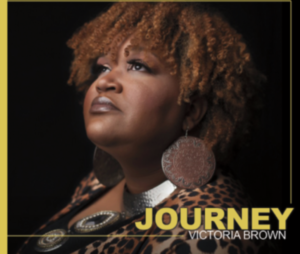 "He Won't Let You Down"
Victoria Brown
From the album Journey (release date: May 2, 2017)
www.victoriabrownministries.com
By Bob Marovich
Hearing "He Won't Let You Down" leaves no doubt that traditional gospel is in Victoria Brown's DNA.
Brown travels from sweet to shout on this bluesy and evangelistic selection. It is as much an internal conversation about inaccurate past assumptions as a directive to the listener that only God can make things right. The song's vamp gives Brown space to extemporize, which I imagine pulls audiences out of their seat in affirmation whenever Brown sings it live.
No stranger to the recording process, Brown first recorded in 2005 with the Ebony Majestic Choir, where she was featured soloist on "I Know I've Been Changed." Her debut CD, He Can Do It (2011), featured Indianapolis's New Life Worship Center. The following year, Brown recorded an original composition called "You Chose Me."  Journey is her new CD.
Although she now lives in Indianapolis, Victoria Brown is a product of the New Covenant Baptist Church in Phoenix, Illinois, under the leadership of Pastor Richard D. McCreary II, Ph.D.