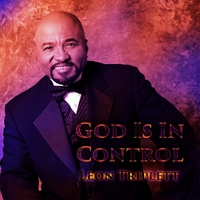 Leon Triplett
God is in Control
Triplett Records
www.TriplettRecords.com
By Bob Marovich
In the early 1970s, Chicago's Leon Triplett was making soul records for Curtom/Thomas Records with his twin brother Levi. The Triplett Twins' 1972 "Pretty Please" even got a second life when it was heard in Big Stone Gap, an Adriana Trigiani-directed film starring Ashley Judd, Whoopi Goldberg, and Jane Krakowski. Leon went on to be a songwriter for Brunswick Records and continues to work the circuit.
With the seven-track God is in Control, Leon Triplett goes gospel, stamping a '70s disco-soul style onto his songs. Swirls of synth surround the title track, an apocalyptic vision of God's final victory. The equally atmospheric "Seven Days" imagines life without God for a week. The song's litany of deterioration of a person's physical and mental state without God evoke a drug addict's descent into darkness.
The album's best cut has a title that sounds clipped from a sermon. Providing a straighten-up-and-fly-right message, "Let Jesus Love the Hell Out of You" has the soulful funkiness of a TK/Gospel Roots twelve-incher. The theme of "Love for God" also sounds sermon-based: regardless of where life takes you or what life gives you, you "never outgrow your need for God."
Vocalist Janet Ja'nae joins Triplett on the closer, "Hero," a repetitive but melodic song that praises Jesus for sacrificing his life for us.
The heavy use of synth gives the project a compressed sound. But you have to hear "Let Jesus Love the Hell Out of You." It's reminiscent of a time when gospel artists didn't mind injecting a little sense of humor into their singing every now and then.
Three of Five Stars
Pick: "Let Jesus Love the Hell Out of You"