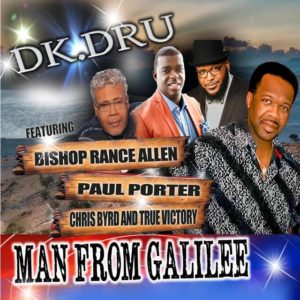 "Man From Galilee"
DK. Dru feat. Bishop Rance Allen, Paul Porter, and Chris Byrd & True Victory
SRT Entertainment (release date: February 7, 2020)
By Bob Marovich
This celebration of Jesus's miracles and ode of gratitude for his ultimate sacrifice is an intergenerational pile-on of top-shelf singers—from Bishop Rance Allen and Paul Porter to DK. Dru and Chris Byrd & True Victory.
It's also a mashup of styles, with Allen and Porter shouting and squalling like quartet lead singers as Chris Byrd & True Victory provide spirited but polished choral harmonies. By the conclusion, "Man From Galilee" feels like a few soul-enriching minutes of church during Holy Week.
DK. Dru is the professional name of Mississippi-based singer, songwriter, and musician Dr. Norris Andrus Lipsey, formerly of Norris Lipsey and the Faith Garden Singers.