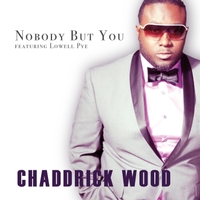 "Nobody But You"
Chaddrick Wood feat. Lowell Pye
Rebirth Soul Entertainment (2017)
https://store.cdbaby.com/cd/chaddrickwood
By Bob Marovich
The husky-voiced Lowell Pye, formerly of Men of Standard, is an ideal duet partner for the equally throaty Chaddrick Wood. On Wood's single, "Nobody But You," the two men argue against DIY as a way to solve one's problems. It only causes stress. Instead, call on Jesus. He'll relieve your burdens, fix your problems on the job, and heal you. No stress.
To a Williams Brothers-esque funky, loping accompaniment, the duo weave improvisational vocal lines and interjections until they conclude with a hymn-like delicacy.
Enrolled at Jacksonville State University in 2006 to play football and study music, Chaddrick Wood embraced the music part, ended up singing at Ambassador Dr. Bobby Jones' Birthday Celebration in 2008, and is now an independent gospel artist.