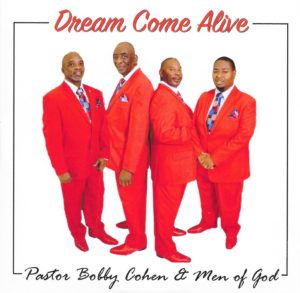 Pastor Bobby Cohen & Men of God
Dream Come Alive
Cohen Records
Available at digital music outlets
By Bob Marovich
"Born Again," the drive-tempo opening selection on Pastor Bobby Cohen & Men of God's Dream Come Alive, signals that the album is a traditional-leaning project.
And it is, though the quartet smooths some of the rough edges to make the music relevant for contemporary audiences.
Elder Cohen, pastor of Christian Fellowship Church in Greer, South Carolina, and owner/manager of gospel music radio station WPJM 800 AM, formed the Men of God in 2012. In addition to "Born Again," Dream Come Alive includes a slow-burner in "I Got a Feeling." Bluesy in feel but not in sentiment—it's about holding on to faith and hope because things will be all right—the song features a wonderfully churchy lead from Flossie Boyd Johnson. I got a feeling Flossie needs a CD of her own.
"Look Where He Brought Me" is a reflection on how God brought us from the dismal darkness into the lovely light. The singer's testimony about his own dark days include performing early morning farm work—a reference that some veteran farmers may not find so dark.
Doo-wop harmonies support the spoken word "Serve the Lord," a track that anticipates a chorus that never arrives. It is preceded by Cohen's "Pastor's Prayer," which he delivers with pulpit-honed experience and a modicum of preacher's breath, all to supportive organ warbles courtesy of Ceddrick Cooper.
The album concludes with the Men of God's arrangement of the quartet chestnut, "Thank You Jesus," which has been around since at least the 1940s. To a mid-tempo bouncing backbeat, Cohen takes the vamp as the CD spins to a close.  Decent work for a debut disc.
Although Dream Come Alive is the first CD for the Men of God, Pastor Cohen has another CD to his credit: Jesus I Love You, which features his Christian Fellowship Community Choir and a title track written by Pastor Luther Barnes.
Three of Five Stars
Picks: "Born Again," "I Got a Feeling"