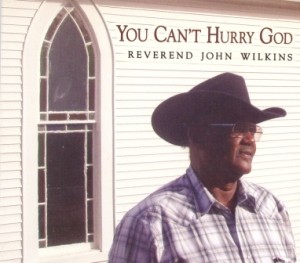 Reverend John Wilkins
You Can't Hurry God
Fat Possum Records/Big Legal Mess (2010)
http://www.biglegalmessrecords.com/
Talk about old school.
On You Can't Hurry God, Reverend John Wilkins takes us way back into the North Mississippi Hill Country for sacred music, guitar evangelist style.
The result is an album with the simple authenticity of an Alan Lomax field recording and the spicy soulfulness of a Willie Mitchell production. From the unhurried Toussaint McCall-esque title track to the rhythmic no-nonsense "Sinner's Prayer," You Can't Hurry God is an invigorating journey along the blue highways of American music.
Wilkins, pastor of Hunter's Chapel Church in Como, Mississippi, had a natural role model in his guitar-playing father, Robert. Robert Wilkins recorded country blues in the late 1920s and early 1930s, most famously the two-sided "Rolling Stone." He was rediscovered by the Dick Spottswoods during the early part of the 1960s blues revival, and became a minister.
The younger Wilkins' recording resume includes accompanying former gospel quartet singer O.V. Wright on his 1965 record, "You're Gonna Make Me Cry," and membership in the M&N Gospel Singers, a group that recorded for Style Wooten's eponymously-titled Designer label during the 1970s.
But this is Wilkins's first full-length solo album, and what a debut it is. He plays lead and rhythm guitar, and pulls out the bottleneck slide on "Prodigal Son," a song originally recorded by his father as the blues "That's No Way to Get Along." The performance hearkens back to the original, hypnotic verses and all, while keeping one foot in the 21st century, thanks to the handiwork of producer Amos Harvey.
It's hard not to sing along with the spritely congregational songs "On the Battlefield" and "I Want You to Help Me." Here, Wilkins' daughters assist on background vocals, providing the response to their father's call. And most uncanny is the musical and vocal similarity to mild-mannered Washington Phillips on "Let the Redeemed Say So," though Wilkins substitutes guitar for double-zither.
The album is best represented by "You Got to Move," what Wilkins calls a "good old foot stomping, good old hand clapping song" that urges the listener to get ready because death doesn't discriminate. The performance's steady electric riff-propelled rhythm is what inspired the formation of the Beatles, Rolling Stones, Kinks, Led Zeppelin and sundry other blues bands.
You Can't Hurry God is as authentic and unpretentious as the artist, and will appeal to trad gospel fans as well as blues and folk enthusiasts.
Five of Five Stars
Picks: "You Can't Hurry God," "I Want You to Help Me," "Prodigal Son."