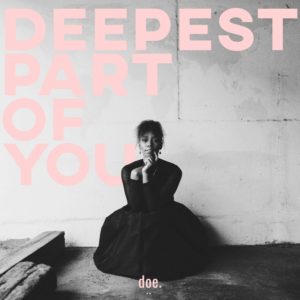 "Deepest Part of You"
Doe Jones
(digital release: October 23, 2018)
By Bob Marovich
Most of the gospel music world knows Doe (Dominique) Jones from her work with Forever Jones, and particularly her lead on the family band's breakout hit, "He Wants It All" (though Doe's "Most of All," from Forever Jones's second album, is my personal favorite).
But there's much more to this woman than a years-old hit single. If the devil had his way, she'd be writing pop melodies in LA and making millions, but she is one of the most committed, true-blue worship artists you are likely to find.
To wit: the singer, songwriter, guitarist, and keyboardist recently offered a few fans a chance to hear her newest song, "Deepest Part of You," to be available digitally October 23. With just the right amount of electronica, echo, and Lady Gaga-style pop sass, Doe lets the praise flow in a stream-of-consciousness prayer to the Most High. Atmospheric and enchanting.