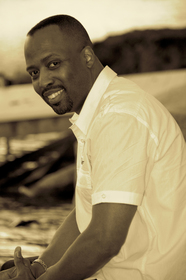 By Bob Marovich
When the chime struck five last Sunday afternoon, December 20, Third New Hope Baptist Church in Detroit, Michigan, was filled with eager anticipation. Members and music enthusiasts were on hand to support the church's Worship Pastor, Bill Moss Jr., as he prepared to record his first live CD since his Billboard-charting Manifested Favor in 2008.
"My church is a corporate-style worship church," Moss told JGM by telephone just prior to the event. "I've been doing a bit of CCM [Contemporary Christian Music] and rearranging it to fit our culture. The response has been amazing. People have really embraced the songs and want to know where they can get the CDs [of the original versions]. But since I have rearranged the songs, they wouldn't sound the same. So I decided to cover some of the songs from these great writers, get the permissions, and put them out and bless the church at large."
The December 20 event was themed "Songbook of Praise & Worship."  In addition to covering CCM worship classics, Moss wrote six new pieces for the live recording. "I have a lot of followers who love Manifested Favor," he said, "and so to give it a little balance, we're going to do a variety of things."
Moss has a solid gospel pedigree. He is the son of gospel legends Bill and Essie Moss, nephew of Dr. Mattie Moss Clark, cousin of the Clark Sisters, and brother of J Moss. His gospel music career began in the church and as one half of the Moss Brothers singing duo, with J Moss.
Since then, Bill and J Moss's artistic proclivities have diverged. Though both continue to write, sing, produce, and record, J Moss has found his home in urban AC gospel. Bill's is a multicultural signature ideal for P&W.
Bill Moss Jr. and his fresh take on church music has breathed new life into the Third New Hope community, led by Senior Pastor Dr. E. L. Branch. Moss explained: "If you don't stay relevant and reinvent, you stand to lose members. But we've experienced a season of growth as a result of the things we're doing to stay relevant in this time. This CD is one of the things we're doing to keep it going."
He also wants the CD to "tap strongly" into the Christian Contemporary Music market. "I like the way they do things," he said. "Not to take away from how anybody else does it, but I like the sharing of music in CCM. The writers tend to write for the church. They understand the value of songwriting and they have an appreciation for other people to pick up their songs and take them further."
Although the live recording service did not include any nationally known gospel artists, Third New Hope's choir and Praise and Worship team were happily suited up to accompany their Worship Pastor. Moss secured Grammy-nominated producer and artist Demetrius "Krayon" Nabors to co-produce the album, which will be released on Moss's Salathiel Records. The album is slated to be available as early as mid-January or the end of February 2016. "We're overdue!" Moss said.
Moss hoped that the spirit will be as high for this recording as it was for Manifested Favor.  For that project, he said, "Many people didn't feel like they were part of a recording. They felt like they were part of a worship service. I want people to leave feeling uplifted, like they have something to look forward to when the CD comes out.
"So many people are still saying to me that Manifested Favor helped them get through some tough times. And that's what it's about for me. I'm not in it to win any awards. I'm in it to be on my assignment for this season. If somebody leaves with that as a takeaway, I'm good."
For more information, visit www.BillMossMusic.com.