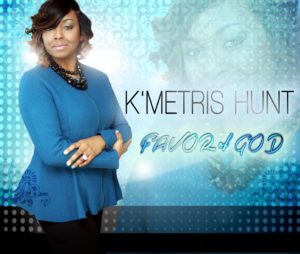 "Favor of God"
K'metris Hunt
Available from digital media outlets
www.kmetrishuntmusic.com
The debut single of Chicago's K'metris Hunt showcases a controlled, confident voice delivering a lovely and melodic P&W ballad with deliberation but without unnecessary embellishment. Her sound has that unimpeachable genuineness that you hear in singers such as Janice Gaines and Dominique Jones.
Reminiscent of a JJ Hairston & Youthful Praise piece but with soft BGVs in place of a thundering choir, "Favor of God" will appeal particularly to P&W enthusiasts and is likely to be covered by other singers.
Drawn to singing at an early age and a member of her church choir, Hunt was a member of the AFC Praise Ensemble and currently serves as a praise and worship leader at Sakal, The Center Church in Chicago, led by Pastor Deon Hunt and Co-Pastor Cecelia Hunt. K'metris Hunt's debut album, Time and Chance, is slated for release next year.