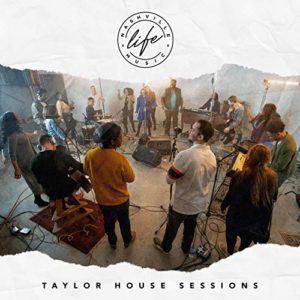 Nashville Life Music
The Taylor House Sessions (EP)
Integrity Music (release date: May 24, 2019)
www.nashvillelifemusic.com
By Bob Marovich
From the loping tempo and bass-heavy opening of the single "My God," and the playful use of auto-tune by Byron Chambers (aka Mr. Talkbox) as a medium for scatting and raising lyric lines, you know that Nashville Life Music has soul.
The overall feeling of the group's Taylor House Sessions EP, recorded at the Taylor House Studio in East Nashville, Tennessee, and especially given the cheering and applause between selections, is of a relaxed communal singalong powered by a throbbing rhythm section. It's essentially P&W music with pop swagger.
The mix of gospel rhythms and P&W melodies is emblematic of Nashville Life Music's church home, Nashville Life Church, pastored by husband-wife team Alvin Love II and CeCe Winans. On the EP, the multi-cultural ensemble of singers and musicians from the church sound like they enjoy what they are doing and the company in which they sing and play.
Half-step shifts in chords and key changes distinguish "Sing a Song," featuring a lead vocal by Alvin and BeBe's son and the church's outreach director, Alvin Love III. In another show of innocent playfulness, the song encourages praise for the one "who has forgiven us for…whatever."
"Glory," fronted by Nashville Life's worship director Dwan Hill, moves along more briskly than its precedents. Its simple lyrics and fundamental melody are characteristic of P&W but thankfully the musical foundation deviates, however imperceptibly, from the typical.
The most infectious track on the EP, "No Greater," once again featuring Love on lead, has a hand-clap in the breaks and is fueled by that always-tight rhythm section. With lead vocals from Piper Jones, "A Firm Foundation" sounds like a Hillsong composition but without the layered keys and guitars. The only things that could make this EP better are if it had a couple of slower ballads and featured solo turns from CeCe Winans herself.
Four of Five Stars
Pick: "No Greater"