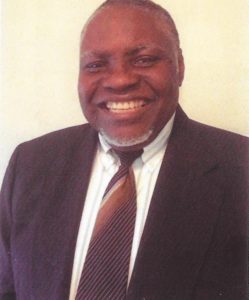 By Bob Marovich
JGM is saddened to report the passing of Mr. Ronald Greer of Bay City, Texas. He passed away in his sleep sometime last night or early this morning.
Ron was the number one fan of the Roberta Martin Singers. Over the years, he kept in touch with the Martin Singers' manager, Eugene Smith. Before Eugene passed, he shared with Ron many stories about the Roberta Martin Singers. Many went into Ron's book, Only a Look, a history and appreciation of the pioneering gospel group.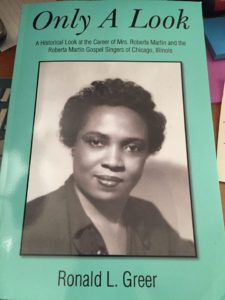 Subsequent to the publication of Only a Look, Ron helped secure a place for the Roberta Martin Singers in the Gospel Music Association Hall of Fame. Through the work of Eugene Folk and Ron, a ceremony presenting the Hall of Fame medallions to family members of Roberta Martin and the singers was held at Chicago's Ebenezer Baptist Church last year.
In addition to Only a Look, Ron, a schoolteacher, penned the humorous children's book What Does Santa Claus do When Christmas is Over?
Homegoing details: Saturday, Feb. 10th at 11:00 a.m. at Mother Zion Baptist Church in Bay City, Texas. Burial will follow at St. John Cemetery in Van Fleck, Texas.
Visitation will be held Friday, Feb. 9th. 2 p.m.- 8 p.m. at Duncan-Roberts Funeral Home Chapel. 979-245-5197
Ron Greer was as kind, gentle, and giving as any person who ever walked this earth.
You can be sure that as soon as Ron enters the Pearly Gates, there are two people he will seek out first: his mother and Miss Roberta Martin.  And both will be equally thrilled to see him.
Written by : Bob Marovich
Bob Marovich is a gospel music historian, author, and radio host. Founder of Journal of Gospel Music blog (formally The Black Gospel Blog) and producer of the Gospel Memories Radio Show.