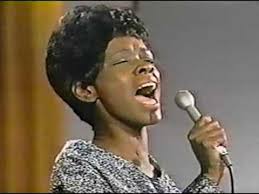 By Bob Marovich
Marcel West and Gregory Gay reported to JGM today that gospel singer Doris Sykes passed away.
From A City Called Heaven: Chicago and the Birth of Gospel Music:
Born in St. Louis and raised by an aunt and an uncle who was pastor of a Baptist Church, Doris Sykes was born with a distinctive high soprano range and acquired the poise of an opera singer. Willie Mae Ford Smith was a cousin. Sykes first sang for the public at her uncle's church. "We used to have musicals," she said, "and I used to write my dad notes, 'Please let Doris Sykes sing.' He knew it was my writing!" The family moved to the Chicago area when Sykes' uncle became pastor of Antioch Baptist Church in East Chicago, Indiana. New Covenant singer Devella Norton Tuck became one of Sykes's musical inspirations.
One of Sykes' early choral directing responsibilities was for the South Side Community Choir, which in the mid-1950s numbered approximately 200 voices. Sykes recalled that at one point it grew to as many as 500 singers. Stanley Keeble was one of its accompanists. In 1957, the choir recorded a vanity disc on the South Side Recording Company, coupling "Somebody Touched Me" and "Great Is The Lord." The group was said to have "more male soloists…than any other Chicago choir." Several of the choir's male soloists, including Melvin Smothers, Woodrow Walker, Karl Tarleton, Willie Shepard, and Rev. Dr. Issac Whittmon, became renowned gospel soloists in the 1960s and 1970s.
Doris also served as choir director for True Light Baptist Church and Watley Temple COGIC. After her tenure at True Light, Sykes went to Hyde Park Bible Church, where Rev. Maceo Woods was minister of music, and directed the choir there. She followed Woods when he founded Christian Tabernacle Church. Sykes, Smothers, and others organized themselves into the Christian Tabernacle Ensemble to sing for services. She became a prominent member, soloist, and recording artist with the larger Christian Tabernacle Concert Choir, and was honored for her service in many ways, most recently at the annual Gospel Supreme concert, hosted by Woods.  Nobody can forget her high soprano notes on songs such as "Just a Closer Walk with Thee."
Doris was a longtime and devoted member of the Chicago Area Gospel Announcers Guild, and will be sorely missed by her friends, acquaintances, and legions of gospel music fans.  
Homegoing details are as follows:
Lie In State:
Friday, February 12, 2016
4:00 to 8:00 p.m.
Celebration of Life:
Saturday, February 13, 2016
10:00 a.m. to 1:00 p.m.
Both services held at:
Christian Tabernacle Church
Rev. Maceo Woods, Founder and Pastor
4712 South Prairie Avenue
Chicago, IL
For further information, call (773) 548-2500