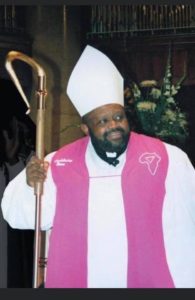 By Robert M. Marovich
Eric Maurice Clark informed JGM that Archbishop Carl "Pops" Bean passed away on Monday, September 7, 2021, after a lengthy illness.
Archbishop Bean was an openly gay man, the Presiding Prelate of Unity Fellowship Church, Inc., a denomination he founded in Los Angeles to provide a welcoming ministry for all, but especially for lesbian, gay, and bisexual African Americans. He organized the Minority AIDS Project in Los Angeles and worked tirelessly on behalf of LGBTQ people of faith.
Bean's 1977 single for Motown, "I Was Born This Way," also the title of Bean's 2010 autobiography, inspired Lady Gaga's own anthem, "Born This Way."
Prior to his ministerial career, Bean, born May 26, 1944, and raised in Baltimore, Maryland, sang with Calvin White and the Gospel Wonders, the group that originated the popular "Long as I've Got King Jesus." He sang and toured with Alex Bradford and the Bradford Singers, and was a member of the Gospel Chimes. In 1974, Carl Bean and Universal Love recorded an album for ABC/Peacock.
According to the UFC Los Angeles website, Bean received numerous accolades, including an NAACP Image Award, the Southern Christian Leadership Conference Martin Luther King Prophetic Witness Award, the Christopher Street West Lambda Award, the Justice Ministries Presbyterian Church Lazarus Award, the Evangelicals Together Phyliss P. Hart Award, the National Minority AIDS Council Award, and the National Black Gay and Lesbian Leadership Forum Harriet Tubman Award.
Speaker, activist, liberation theologian, and a genuinely warmhearted person, Archbishop Carl Bean was always upbeat, positive, and selflessly encouraging in all of our online messaging. The world is a better place because of his work.