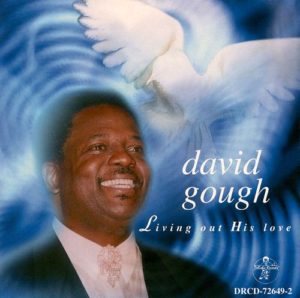 By Bob Marovich
Darryl Lassiter informed JGM of the passing of David Gough at age 67.
A gospel music artist, film producer, and owner of DoRohn Records, Gough is probably best known for establishing the International Gospel Music Hall of Fame and Museum in Detroit, Michigan, in 1995.
I had the opportunity to meet Mr. Gough at the Gospel Music Workshop of America some years ago, and to speak with him several times by telephone.  He will most certainly be missed.
JGM extends its sympathies to the Gough Family.
Here are the home going details.
Public Viewing
Friday, August 18th
12p-4p
Kemp Funeral Home
24585 Evergreen
Southfield Michigan 48075
The DoRohn Records Revue – A Musical Celebration
Friday, August 18th
7p-9p
Revival Tabernacle
16455 Woodward Ave.
Highland Park, Michigan 48203
The Celebration of Life for David Gough
Saturday, August 19th
Family Hour 10am
Home going Celebration 11am
New St. Paul Tabernacle Church of God in Christ
15340 Southfield Fwy. (Bishop P.A. Brooks Dr.)
Detroit, Michigan 48223
All cards and condolences can be sent to the attention of:
The Gough Family
16455 Woodward Ave.
Highland Park, MI 48203
For further information regarding any of the details, please contact Gwen Tolbert (562) 644-4773.