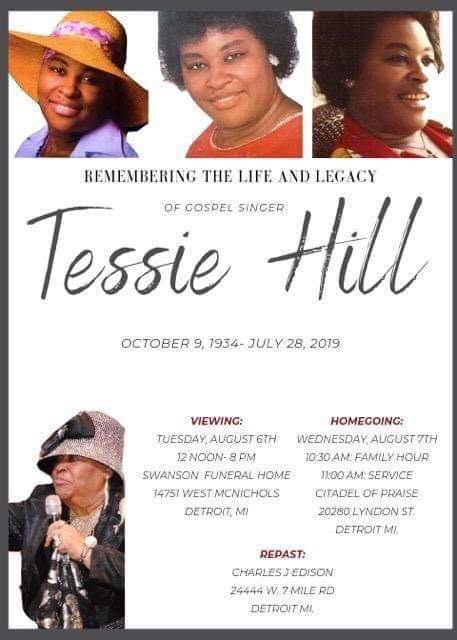 Marcel West of Detroit, Michigan, informed the Journal of Gospel Music that gospel singer Tessie Hill-Ackey passed away on July 28, 2019.
Born October 9, 1934, in Monroe, Georgia, Madame Hill migrated at a young age to Detroit, Michigan. She later became lead vocalist of the choir at the church shepherded by her husband, the late Pastor Lonnie Hill. The Original Church of God in Christ Choir, which for a time included a young Rance Allen on guitar, made albums for Savoy Records during the 1960s. Hill's vivacious, expressive voice led many of the choir's selections.
Hill had a solo career, as well, recording in the 1970s for HOB and Peacock, and in 2015 released a CD called Stepping Out.  "I'm going to keep singing until I'm laid to rest," Hill stated on her Facebook page. And she did.
JGM extends its sympathies to the family, friends, and many fans of Madame Tessie Hill, one of Detroit's legendary gospel songbirds.