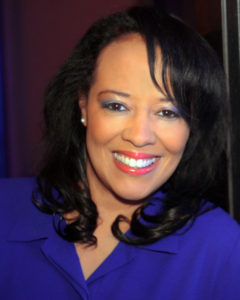 PRESS RELEASE: When Black Entertainment Television (BET) premiered its new weekly musical television program "Joyful Noise" a couple of weeks ago, Liz Black's Twitter page buzzed with friends and fans asking if that was her voice opening the show and introducing its host Tye Tribbett.
It was indeed the legendary New York City area radio personality who hosts "Sunday Praise" on the Big Apple's WBLS 107.5 and also on its sister station WLIB 1190 AM.
"It's very exciting," says Black. "I've been doing radio for years but this feels like a totally new adventure for me and I'm loving every minute of it."
A New York native, Black began to emcee shows as early as the age of five. She began her career as a model and appeared in television commercials. After a spiritual rebirth in the 1990s, Black began to host her own variety shows where she gave a platform to aspiring artists to showcase their talent. She also hosted Gospel Amateur Night at the world-famous Apollo Theatre in Harlem and hosted shows at a variety of gospel radio stations before joining New York's 24-hour gospel station WLIB in 2007.
In 2010, she joined the legendary R&B radio powerhouse WBLS where she hosts "Sunday Praise." Black also hosts the syndicated weekend radio program "Inspirations with Liz Black" that airs on the Rejoice Musical Soulfood Network that boasts over 50 affiliates. She also hosts Super Radio's "Gospel 360" syndicated daily entertainment news actuality.