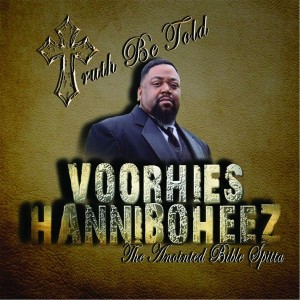 By Bob Marovich
In July, Voorhies Hanniboheez of Detroit received the 2015 Rhythm of Gospel Award for Best Performance by a Christian Hip Hop Artist.
It was his first public honor and confirmation of a journey that has taken a decade to crystallize.
"[This award] means everything to me," Voorhies told JGM. "I never really saw myself as a performer. I knew I would end up with a beautiful album, because I truly did it for God. No connections, no help. But this tells me that God wants me to perform in front of His people."
Voorhies—"my first name is a family name"—grew up in Detroit and started out in freestyle battle rapping.
"I started rapping when rap happened," he said. "I grew up in the Run DMC era, LL Cool J, the mid-'80s. Those guys were my inspirations as far as the art form, the way they put words together. Then I heard people like Big Daddy Kane and Rakim, who took it to the next level, used double entendre—it was like poetry. Their voices were instruments. I fell in love with the art form and realized this is something I wanted to do with my life."
The rapper crafted his stage name by combining Hannibo, from the battle rapper's boast of chewing the other guy up like Hannibal Lector, with "Boheez," the way some childhood friends mispronounced his first name. "I put the two together and came up with Voorhies Hanniboheez. I know it's a pickle to pronounce, but for me, it has a history and a lot of meaning."
Although Voorhies didn't grow up in church, "I grew up a believer." His grandmother and grandfather were inspirations when it came to religion, as was Bahamian pastor Dr. Myles Munroe.
"I've always had a deep affection for the ministry of Dr. Myles Munroe, who my grandfather turned me on to when I was seventeen years old," Voorhies said. "He was talking about things no other pastors were talking about, like discovering your purpose, and how God had a plan for your life. The level of wisdom he had just blew my mind. He was not hollering, he was not screaming, he was actually teaching. He was breaking down Hebrew words and it was exciting. As a young man, those things became really attractive to me. His ministry saved my life."
It was after meeting his wife, who comes from a family with a long church lineage, that Voorhies "began to see the real importance of being in the church, not just believing in God but being connected with Him through fellowship."
As Voorhies studied the Bible and learned more about God, his friends encouraged him to turn his lyrical freestyle rapping into Gospel hip hop.
"I never thought I could do it," he explained. "I figured it would be watered down and wouldn't have the same impact. I tried it a couple times, and it didn't really work out right. But God explained to me why it didn't work. He said, 'Hip hop is a good thing, it's not a bad thing, but it's being abused by a lot of people. I've allowed you to gather all of those skills in hip hop, but you are trying to completely abandon hip hop and go straight to the Word. You're not going to draw men to you like that. I want you to keep the hip hop skills and only sprinkle it with the gospel. And then on certain songs, go full-fledged and fuse the Word of God with hip hop.'"
Emboldened by this wisdom, Voorhies further developed his rhymes and performance technique and earned the nickname "The Anointed Bible Spitta."  But when life got in the way, Voorhies set his dreams aside, entered aviation as a career, and set about to raising a family.
Things changed about ten years ago, when Voorhies met "a suburban white kid" who wanted to get into rap. He began ghostwriting rhymes for the aspiring rapper and even brought him to a studio in Canton, Michigan. But [producer] Rick Young pulled Voorhies to the side and said, "Man you have an amazing gift. You should be in the booth working on your own project."
He said: "I always wanted to make an album, something that I could dedicate to God and give to my daughter. But when I began to finish the project, people would come up to the studio and they would say, 'You have to get this stuff out.' Doors started opening, I began performing in churches and getting positive feedback. That lit a fire in me."
Voorhies's debut album, Truth Be Told, took more than nine years to complete but was released officially in August 2015. "I wanted it to be done right, as if it was done in a major studio," he explained.
Two selections, "He's the Light" (feat. Janee' Smaw) and "Praise God for Everything" have received spins on internet and terrestrial radio stations. "So Sad" addresses Sudden Infant Death Syndrome.
Voorhies explains that one selection, "Your God, My People," is an anomaly in Christian hip hop. "At more than eleven minutes, there's probably no radio station that's going to play this song because it's just too long. But I invested my finances into that song because, to me, it was an investment into God's Kingdom. I go from Genesis all the way to Revelation. It's perfect for youth ministry. I want people who listen to my music to be inspired to check it out in the Word of God."
Voorhies dedicates "Sending His Son" to his spiritual inspiration, Dr. Myles Munroe. "Most of the lyrics in that song are things I learned from him and my grandfather," he said.
He added: "There are a lot of rappers who come over here [gospel] and they claim to do gospel, but it's really not. It's worldly music and they are just slapping Jesus's name at the end of it. What I want to do is to produce music from my heart and dedicate it to God. This album is my life's work. Having my work heard and appreciated is worth more than finances.
"It's my dream to perform at T. D. Jakes church, or Joel Osteen's, or Joyce Meyer's, or Marvin Winans' church. I would like to work with Lecrae, Marvin Sapp, Mary Mary, and Tamela Mann, just to name a few. But my absolute dream is to one day perform at Myles Munroe's church in the Bahamas so I can give back to him and to his people what they gave to me."
For more information, visit www.voorhieshanniboheez.com.