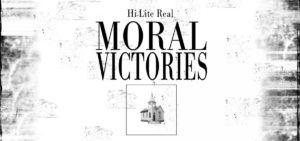 Hi-Lite Real
Moral Victories
Hi-Lite Life Music (2016)
http://hilitereal.com

By Bob Marovich
Moral Victories, the latest CD by Atlanta-based Christian Hip Hop artist Hi-Lite Real (born Dwayne Dickey), is as aspirational as it is inspirational.
Employing sports analogies for some of his selections, Hi-Lite Real pumps up his motivation while evangelizing to those caught between the street life and the blessed life. "Keep that Xbox," he spits on "Number 1 Contender," because saving souls is no game. He's got his "eyes on the prize" and will work, even through "a torn ACL," if need be.
During "Jungle," Hi-Lite Real likens his courage and holy boldness to that of a tiger and a panther. Unafraid of any haters, critics, or weapon formed against him, Hi-Lite Real desires to bring sinners home. On "Moral Victory," which opens the CD, he notes that the more he's hated, the stronger and more victorious he gets.
In some instances, the rapper's teaching is by example. On "Everything," he raps that he will "leave this earth okay" because he's been blessed personally by the Lord's touch. For "Rich," he evokes Drake by noting how he "started at the bottom, now I'm here." But for Hi-Lite Real, "here" is not the lap of financial luxury; being "rich in spirit" is where cometh his wealth, and he has "got what I need."
Hi-Lite Real is also out to scare sinners straight. "Wrong Turn" declares that the "blessed life is the best life" and for those who don't believe it, the alternative, burning in the eternal flames, is not a great option.
The beats on Moral Victories are minimal and plain, and as such they do not detract from the artist's rhymes, which come across crisply. On the other hand, more melodic beats could have made the album's messages more compelling. Nevertheless, as with similar Christian rap mixtapes, there's more evangelization per minute on Moral Victories than on other sacred music projects.
In addition to Christian Hip Hop career, Hi-Lite Real is in the music ministry at Mount Calvary United Methodist Church and is also involved with the church's youth group.
Three of Five Stars
Pick: "Number 1 Contender."