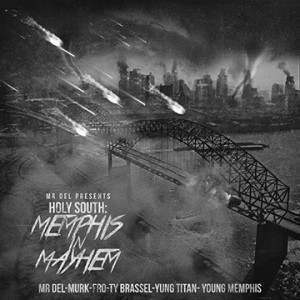 Mr. Del Presents Holy South:
Memphis in Mayhem
DMG (2015)
www.noisetrade.com/holysouth/memphis-in-mayhem
By Bob Marovich
Quite possibly taking its title from a deliberate word play on the annual Memphis in May festival, the Memphis in Mayhem mixtape is available free of charge on Noisetrade (use the link above) by Holy South, a self-proclaimed "militia" of prayer warriors comprised of hip hop artists signed to Mr. Del's DMG (Dedicated Music Group) label.
Murk, Fro, Ty Brassel, Yung Titan, and Young Memphis join the "Hope Dealer," Mr. Del, on the mixtape. Acknowledging the sorry state of affairs in today's society, Holy South is mobilizing to save the children and bring souls back to God. But they are not passive prayer warriors: they are a SWAT team for the Kingdom, intent on hitting the streets and walking the talk among the Godless and those still on the fence.  The tough rhymes, aural explosions, and cover art depicting fiery rain from Heaven bearing down on Memphis's famed Hernando de Soto Bridge underscore Holy South's ministry missive.
The mixtape opens with "The King Live from Memphis." An archival recording of encouraging oratory from Rev. Dr. Martin Luther King, Jr. and a snippet of "O Fortuna" from Carmina Burana introduces a rap about the irony of two "Kings" dying in Memphis—MLK and Elvis—and that while the latter "died on a commode" the former died serving as God's messenger.  The message is in between the lines.
The distinct advantage mixtapes have over conventional music releases is that they can be created and disseminated quickly, meaning they can include more timely references, such as the reference to Michael Brown on the title track.
With a purring Hammond B3 backdrop evoking Stax Records legend Booker T. Jones, "Oh Jesus" pays tribute to Memphis music history amidst praises to Jesus for being good to us.
Yes, there is Mayhem in Memphis, summarizes Mr. Del on "Outro," but there is mayhem across the country. Therefore, in a bold combination of ministry and marketing, Mr. Del declares that Holy South "is taking our cities back for Jesus."  Not only is the hip hop collective coming to a city near you, he says, "we will come to a city near you." Mr. Del then provides contact information for engaging the group and promotes recent releases by the DMG artists.
Some of the rhymes work better than others, but there is no doubt that Holy South, under Mr. Del's direction, has outlined its mission clearly and stated its intentions plainly: to do what it takes to effect mass salvation, one city at a time.
Three of Five Stars
Picks: "The King Live From Memphis," "Oh Jesus."