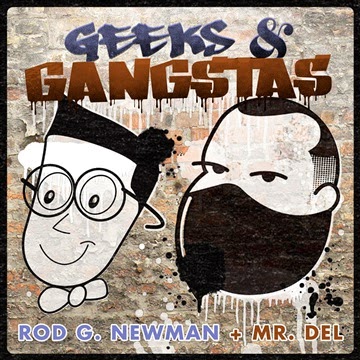 Mr. Del & Rod G. Newman
Holy South/Geek World Entertainment/DMG
(released April 1, 2014)
Although Mr. Del's Hope Dealer just hit the streets, not long ago the Grammy and Dove-nominated Christian rapper from Memphis joined forces with Rod G. Newman of Birmingham, Alabama, to create Geeks & Gangstas.
The album, available at online music stores but also via free download from Noisetrade (tips welcome), plays the two artists' styles off one another. Newman is a bowtie-wearing self-described "Jesus Geek" and Del is the gruff-voiced, street-savvy former gangsta rapper. Despite their stylistic differences, on one thing they agree: the way to save more souls is to take the message of Jesus to the streets.
"Vampirez" makes this point particularly clearly. Multiple metaphors are at work on this track. "We're not monsters, we're Christians," the duo affirms. They live on blood—the blood of Christ—while trying to reach those who look like the walking dead because they attend churches that leave them flat. Repping Christ on life's highways and byways is reprised on the rhythmic "Nu Supastarz."
Christian hip hop enthusiasts will remember Newman and Del's collaboration on "Sunglasses." Released originally on Del's Faith Walkaalbum, the duo's rearrangement of Corey Hart's 1984 pop hit, "Sunglasses at Night," suggests that wearing sunglasses at night is not only cool but allows one to keep an eye on the enemy.
"Jesus Geek" is Newman's theme. Declaring that "I'm smarter than you'll ever be," he makes a fine but important distinction between the meaning of "Jesus Freak" and "Jesus Geek." Del's story can be inferred from "4 Da G'z." To a gothic backdrop, Del iterates how he is separate from "these phonies," allegedly referring to the gangsta rappers with whom he used to associate (he was a member of the Three 6 Mafia until he turned to Christ in 2000).
Geeks & Gangstas
is not nearly as strong a project as Mr. Del's THRILLA (2009), but the album belongs more to Newman anyhow.