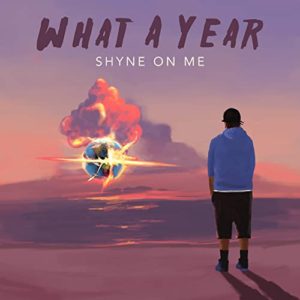 Shyne On Me
What a Year (EP)
(Release Date: November 26, 2020)
https://shyneonme.bandcamp.com/
By Robert M. Marovich
The year 2020 wasn't over when DC-based Christian rapper Shyne On Me, like most sentient beings, was ready to stick a fork in it. Nor was the trouble the year wrought, as we witnessed on January 6 in the rapper's own hometown.
His EP, What a Year, encapsulates the emotional rollercoaster that was 2020 through rhymes he renders to a mix of acoustic guitar, laidback beats, and a cacophony of other voices, like friends gathered (masks on, of course) to share collective empathy.
Snippets "What a Year" and "Handle It" introduce the EP's main messages of reliance on God and resilience, and to tee up the EP's four principal pieces. "Trouble" puts an easy bounce on "Trouble Don't Last Always." During the quarantine and its many challenges, Shyne On Me has been resilient like "oven mitts:" "When troubles keep me down, I dust myself again." Also: "I'm Coppertone, won't let it under my skin."
"Blood in the Streets" comments on the year's police brutality and the resulting unrest and protests. Chants of "No justice, no peace" can be heard behind Shyne On Me as he inspires listeners to "shine your light in the dark."
"Tears in the Streets" takes on street violence and the shooting of children. Coming to terms with a God who would let such tragic things happen, Shyne remembers that "God don't make mistakes." It's an unanswerable question, and the moody melody and arrangement, and particularly the extended piano instrumental, gives the piece an elegiac quality.
"Second Wave" reminds listeners that while trouble don't last always, it can and will return. The only way to deal with it, such as the second wave of COVID-19 infections, is to trust in God and trust in yourself. "Faith doesn't take the weight off of my life," he rhymes, "it shows me how to handle it." He prays for strength but with a caveat that if he doesn't make it, may God take his soul. By the end, Shyne is more hopeful, rephrasing the "trouble don't last always" trope as "brighter days gonna be comin' again."
Brief and to the point, What a Year is less lyrically complex than Shyne On Me's 2017 mixtape Barmonies: The Long Fall. As of this writing, the EP is available to download for free from Shyne On Me's Bandcamp page.
Three of Five Stars
Pick: "Trouble"