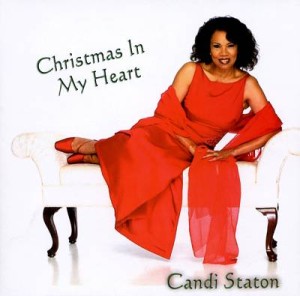 Candi Staton
Christmas In My Heart
Beracah Records (2001)
www.candi-staton.com
By Bob Marovich
Many music fans first heard Candi Staton when she was a disco diva, filling dance floors with her 1976 hit, "Young Hearts Run Free." Others discovered her a few years earlier when, as a Muscle Shoals recording artist, she was dubbed the "First Lady of Southern Soul."
But two decades before disco and Muscle Shoals, young Canzetta Staton and her sister Maggie started their professional singing careers as two-thirds of the Jewel Gospel Trio.
By the 1980s, following a series of personal challenges, Candi left pop music and headed back to gospel, where she and then husband John Sussewell formed Beracah Records. It was for Beracah in 2001 that she released her first and only holiday album, Christmas In My Heart.
Listeners expecting eleven disco-fueled holiday songs will be surprised to find only one track in that category—the dance floor-ready "Change in My Life," which reprises Staton's short-lived experiment blending gospel and disco as "gos-co."
The remainder of the songs, whether traditional or newly-composed, are not disco but raw and bluesy with varying touches of gospel. "Joy to the World," for example, is a hand-clapper, with piano accompanist Vance Taylor dropping textbook gospel chords throughout. "Go Tell It on the Mountain" gives Staton the floor to do some extemporaneous evangelizing, during which she enumerates similes to describe Jesus, including the standard church cry: "He's a bridge over troubled waters."
Staton's own composition, "Wise Men Still Seek Him," is a rhythmic retelling of the Wise Men story, tagged with a reminder that people of all sorts and stripes still seek Jesus today. The title track, another Staton original, declares that the spirit of Christmas is not just a one day happening but, if we have the right temperament, can infuse every day with joy. "On a Christmas Night" finds Staton flexing her secular side, telling her true love that it's just not Christmas without him.
What it comes down to is that Christmas In My Heart is exactly the type of holiday album one should expect from the soul, gospel, and disco veteran.  As such, it fits well within the canon of popular Christmas albums.
Three of Five Stars
Picks: "Joy to the World."