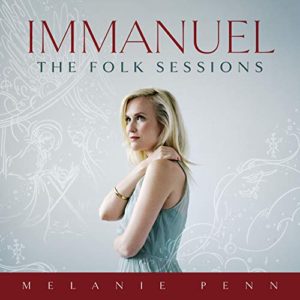 Melanie Penn
Immanuel: the Folk Sessions (EP)
Equally Well Music, LLC (release date: October 25, 2019)
www.melaniepenn.com
By Bob Marovich
A different kind of Christmas album, Immanuel: the Folk Sessions tells the story of the Nativity from the perspective of several Biblical personae. It is an acoustic version of some songs originally available on Melanie Penn's 2017 release, Immanuel.
"All Things are Possible" reflects on the miracle of a virgin woman giving birth, while "Great Things" finds Mary praising God for this inexplicable miracle. On the sprightly "Gift of Love," the angels tell Mary not to be afraid, to go to Bethlehem and have the baby. This song evokes Alison Krauss and Union Station—among Penn's musical inspirations—at their cheeriest.
While most of the songs are original compositions, one is a tender version (and slight re-arrangement) of "The First Noel." "What Child is This" is not the familiar tune set to "Greensleeves" but a ballad from Joseph's point of view, that of bewilderment over being chosen, a simple carpenter, to father the Christ child. These two songs are the EP's high points. The ensemble does such a fine job with "The First Noel" that one wishes the EP included a couple more acoustic-fired traditional carols.
The EP closes, appropriately, with "I've Seen the Glory," Simeon's confirmation that the baby Jesus is the promised salvation of the world made flesh.
Longtime Penn collaborator Ben Shive (Mercy Me, Brandon Heath, Ellie Holcomb) produced the EP.
Penn's coquettishly pretty voice is ideal for the EP's string-driven acoustic underpinning, advertised as bluegrass though it has more of a contemporary country string band feel. The musicians, incidentally, are members of Arcadian Wild and Nashville players.
Though she now lives in Manhattan, Penn, who has classical and Broadway experience on her resume, sounds from the EP as if she was born and raised in Nashville.
Four of Five Stars
Picks: "The First Noel," "What Child is This"