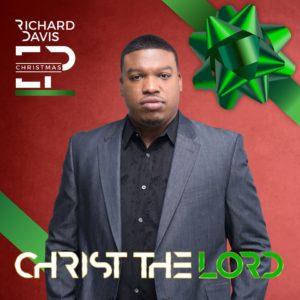 Richard Davis
Christ the Lord (EP)
R2D Music / Flaydo Music (release date: November 30, 2018)
www.r2dmusic.com
By Bob Marovich
The title of Richard Davis's Christmas EP comes from the reason for the season, from the album's title track (and single), and from the lyrics of "O Come All Ye Faithful," one of the songs in the "Christmas Rhapsody" instrumental medley that opens the four-track project.
"Christmas Rhapsody" shifts from Trans-Siberian orchestral to funky as it sets the tone for a big production. And whether Davis is covering classic carols or rendering new songs, the constant is the fullness of the arrangements. The rhythm section fills all the sonic spaces not already occupied by the keys and the background singers.
h Holy Night" is also a keyboard-led instrumental, and it transitions to the title track, which riffs a bit in lyric on "Oh Holy Night." It is on "Christ the Lord," in fact, that we finally get to hear Richard Davis sing. His in-the-pocket baritone, evocative of BeBe Winans, causes one to wonder why he doesn't sing more often on the project. Both "Christ the Lord" and "Christmas Gift," the latter released originally in 2016 to chart success, praise Christ's birth and are appealing songs well delivered by Davis.
Davis's debut CD, In All Your Glory, came out in 2006. In addition to operating his R2D Studios, Davis is director of music and fine arts at Strong Tower Ministries in Fredericksburg, Virginia. He is also vice president and director of artist relations for the Jonre Music Group, and director of label operations for 9585 Records. His "Thirst 4 U" was named Holy Hip Hop/R&P Song Of The Year at the 2018 Rhythm of Gospel Awards. Christ the Lord is a nice, albeit brief, salute to the season.
Three of Five Stars
Picks: "Christ the Lord"