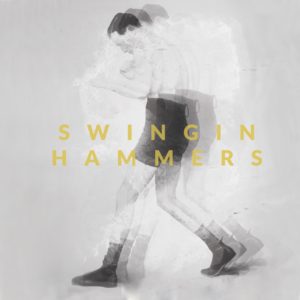 Swingin Hammers
(self-titled)
(release date: November 10, 2017)
www.swinginhammers.com
By Bob Marovich
When one of the titles on an album is "Hangman," you know the artist has experienced some kind of something.
Confessional is the overall mood of Swingin Hammers, the self-titled debut album of singer-songwriter Benjamin Rupe, who performs under the rubric of Swingin Hammers. The ten songs are raw, stark, not at all sugar coated. It is the catharsis of a man who can't believe the Savior still cares for him, flaws and all.
One aspect of Swingin Hammers that distinguishes it from other sacred fare is its brutal honesty. Many old hymns enable us to sing about our wretchedness, but we never sound quite convinced, do we? Ben sounds convinced. In an alt-country voice that bears the scars of personal pain, and with extremely expressive guitar accompaniment that offers little consolation, he pours forth emotion from the shale-level depths of a depressed soul. I dare you to listen to "Cold War" and not be moved. Not since Andrae Crouch's "Lullaby of the Deceived" have I felt such motive force in the battle between darkness and light.
But make no mistake: Swingin Hammers is not Nine Inch Nails. There is light at the end of the darkness. The songs, tough medicine though they may be, also point to a savior who forgives and offers salvation no matter how filthy we are ("Red Hands"). "Breathe Again" explores the freedom God gives us, even if "it hurts to peel the bandage off." It is this song that gives us hope that Swingin Hammers is safe from harm.
Nevertheless, during the final minute of "The Good Shepherd," which is also the final minute of the album, Swingin Hammers sings the Doxology with such physical and mental depletion that I half expected to hear a gunshot puncture the proceeding silence. That none came speaks volumes about the redemptive power of salvation.
Three of Five Stars
Pick: "Breathe Again."