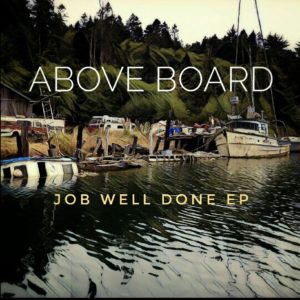 Above Board
Job Well Done (EP)
https://www.facebook.com/aboveboardmusic/
By Bob Marovich
I had guessed that Ed Vangelisti and Amanda Picart, the engaged couple who performs as Above Board, were from California before I looked it up and saw that, in fact, they are in Fort Bragg, California. Their effervescent singing, bright melodies, two part harmony, and mostly acoustic accompaniment are like a spring breeze off the northern coast of the Golden State.
The duo's three-track EP, Job Well Done, is brief but indeed a job well done. Evoking alt-folk groups such as the Decemberists and Fleet Foxes, Above Board puts three praise and worship songs forward with the intimacy of a coffee shop open mike session. They deliver the songs with such honesty that one hopes they create a full album of their songs at some point.
Most striking is the eschatology of the title track's chorus. It should comfort those experiencing a difficult life, as well as those who, like Russian novelists, believe in the transformative quality of suffering, that God speaks to his prodigal son thus: "I know I made your life hard / Had to break your heart / Just to get you home / You see that it's worth it now."  This is a sentiment often felt internally but less often heard in sacred song.
By day the couple works in the hospitality industry, but their passion is making music for Calvary Chapel in Fort Bragg, California, where they met. Above Board is currently unsigned.
Three of Five Stars
Pick: "Job Well Done."