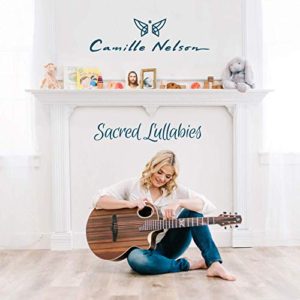 Camille Nelson
Sacred Lullabies
Heart Dance Records (release date: August 23, 2019)
www.camillenelson.com
By Bob Marovich
Religious music comes in many shapes and sizes. It can be thunderous or austere, passionate or quiescent, joyful or somber. Regardless, for sacred music to be effective, it must, as Father of Gospel Music Thomas A. Dorsey once said, "prick the heart."
Sacred Lullabies, Utah musician Camille Nelson's new collection of acoustic music, pricks the heart by drawing on folk, CCM, country, and Celtic influences. The album is as comforting as a loving embrace.
In keeping with the title's premise, many tracks are soothing rock-a-bye instrumentals featuring Nelson on acoustic Brunner guitar. Her picking style makes the six-string Brunner as sonorous as a lap dulcimer. It's the kind of music you expect to be accompanied by dimmed lights, a scented candle, and a cup of spiced tea.
Notwithstanding the instrumentals, the most memorable tracks on the album are led by vocalists. Kimberly Knighton and Britney Holman lend a gentle and sweet two-part country harmony to the lovely "I'm Trying to be Like Jesus." Madilyn Paige's "Our Lullaby" evokes the earnestness of Nichole Nordeman and Lauren Daigle. Female voices throughout the album become symbols of young motherhood that augment the lullaby aura.
Songs come from an assortment of songwriters; some are familiar, others less so. Among the familiar are Nelson's guitar-led instrumental version of "Edelweiss" from The Sound of Music. "Into the West," Annie Lennox's Academy Award-winning song from the film adaptation of The Lord of the Rings, is accompanied by Joey Schumann on Irish tin whistle and Uilleann pipes and pristine vocals by Celtic Woman member Alex Sharpe. In this ensemble's hands, the song takes on an Enya-esque vision of a soul sailing away to heaven. I had never thought of this song as perfect for a homegoing ceremony, but it works.
I found "Pie Jesu" lovingly rendered by vocalist Catherine Bohman, but it moves at a quicker pace than Sir Andrew Lloyd Webber's original and in doing so, misses opportunities to eke optimal emotion from the classic work. Similarly, "New World," an arrangement of the Largo from Dvorak's New World Symphony that features Camille Nelson on violin and guitar, lacks the kind of dynamic nuance that could have made it the best track on the album (that honor goes to "Into the West").
Nevertheless, Sacred Lullabies certainly pricked my heart in its simplicity and achingly gorgeous ambiance. It's chill, cool-down music that inspires prayerful introspection and a tear or two at times. I hope Camille Nelson and her team continue to make albums like this one.
Five of Five Stars
Picks: "I'm Trying to be Like Jesus," "Into the West"