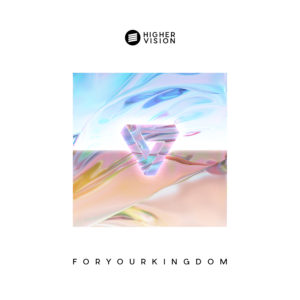 Higher Vision
For Your Kingdom
Syntax Distribution (release date: October 6, 2017)
www.highervisionworship.com
By Bob Marovich
For Your Kingdom is the debut offering from the worship team of the 3,000+ member multigenerational Higher Vision Church, located in California's Santa Clarita Valley. The album is an hour-plus of high energy stadium-sized performances of praise songs wrapped in Christian rock and electronic pop music.
As with many live P&W projects, the whole is greater than the sum of its parts. For Your Kingdom's anthemic songs float along on melodies and themes that blend together, creating not an album of individually distinctive tracks but a worship experience that needs to be listened to in its entirety for maximum impact.
Worthy of special note is Macie Ming, one of Higher Vision's several lead vocalists. On tracks such as "Broken the Chains" and the especially lovely "We Cry Holy," Ming's voice exudes a warm, smiling restfulness reminiscent of the late Karen Carpenter.
Songs such as "Worthy is the Lamb" and "He Is Here," with their hypnotic rhythms, simple melodies, and mantra-like lyrics, evoke Australian CCM behemoth Hillsong. But what distinguishes Higher Vision from other contemporary Christian worship groups is its penchant for playful introductory melodies played on electronic keyboard. The most infectious is the melody that opens the title track. Sounding for all the world like a Neon Indian riff, the motive is as futuristic as the album cover artwork. Synched with Higher Vision's light shows, the riffs are so different that the group should do them more often.
To that point, having seen the music videos for the title track and "Trust In You," the project seems ready made for a DVD.
Four of Five Stars
Pick: "We Cry Holy"