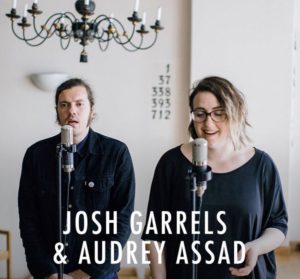 "Wood and Nails"
Josh Garrels and Audrey Assad
From Work Songs: The Porter's Gate Worship Project, Volume 1 (Live)
(release date: October 6, 2017)
www.portersgateworship.com
By Bob Marovich
"Wood and Nails," Josh Garrels and Audrey Assad's feather-light and stunningly gorgeous duet, has its foundation in contemporary Christian music but its simplicity seems to come straight from a Shaker hymnbook.
Assad's vulnerable soprano is otherworldly, whether solo or in two-part harmony with Garrels. The spare acoustic arrangement is ideal for this prayerful meditation on how Jesus, the carpenter, built our home with the wood and nails of the Cross.
The single is part of a various artists CD from the Porter's Gate Worship Project, defined as "a creative movement aimed at reimagining and recreating worship that welcomes, reflects and impacts both the community and the Church." The album is a product of the movement's consortium of 60 musicians, pastors, writers, scholars, and music executives representing a variety of denominations and ethnicities.  The group convened in New York City for two days of "meaningful conversation about worship and vocation."  What I've heard from this session is quite remarkable.