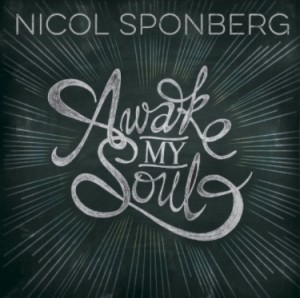 Nicol Sponberg
Awake My Soul
Discovery House (release date: September 18, 2015)
https://dhp.org/
By Bob Marovich
As a Catholic kid attending Catholic elementary school, I spent many a weekly church service singing along to the austere church hymns that the organist pumped out at lock-step rhythm. But to a 1970s pre-teen, who thrilled to the pyrotechnic rock of the era, those hymns, in that lock-step rhythm, sung lifelessly by a bunch of knockabouts like me, seemed like some of the squarest songs on the planet.
Too bad Nicol Sponberg wasn't with us then to inject some of her musical magic into the arrangements.
The former songstress of the award-winning Christian trio Selah has released Awake My Soul, an album of eleven popular church hymns painted with fascinating strokes of rock, pop, country, and even New Age Celtic. The hymns appear in the books of many Christian denominations—Baptist, Methodist, Catholic, Lutheran, Episcopal, AME, and others. But you haven't heard them done like this.
In her throaty alto, Sponberg renders chestnuts such as "Crown Him with Many Crowns," "In the Garden," and "Sweet Hour of Prayer," with dignity and passion, and fortifies them with bracing beats, spiraling flights of melody and harmony and, at moments, acoustic delicateness. She and her band infuse rock elements into "The Solid Rock" and give a country patina to "Holy Holy Holy." At the same time, the ensemble ensures that the hymns retain their original majesty and singalong simplicity.
The album came about because hymns have played a cathartic role in Sponberg's life, a life that has experienced more than its share of heartbreak. While in Africa recovering from malaria, for example, she sought out old hymns for solace. "I remember sitting down with a hymn book on the days when I felt good," Sponberg said, "and just going through these old songs. It was like therapy for me."
Nicole Sponberg returns the favor and pays it forward on Awake My Soul. If Sandra McCracken's Psalms lofts hymns into the mists, Awake My Soul rocks them gently into your consciousness.
Four of Five Stars
Picks: "The Solid Rock," "Our Great Savior."