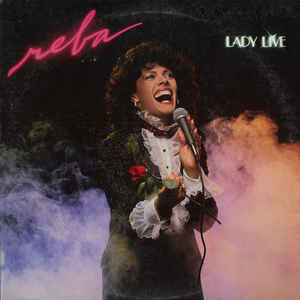 Reba Rambo
Lady Live
Entertainment One (original release: 1982; reissue: July 30, 2021)
www.rebarambo.com
By Robert M. Marovich
In June 1981, just months after winning her first Grammy for co-writing and performing on an all-star gospel album called The Lord's Prayer, Christian singing star Reba Rambo appeared at the Anaheim Convention Center in California for a solo live recording. The product, Lady Live, came out the following year and garnered Rambo yet another Grammy nomination, one of nine in total for the singer thus far. Remastered from the original tapes, the album is being reissued in digital form July 30.
On Lady Live, a crew of veteran musicians support Rambo with a groove rooted firmly in bass-dominated late '70s disco-pop. It's a crossover sound as comfortable on the Christian stage as on American Bandstand. As such, Lady Live exemplifies the era's freewheeling contemporary Christian music scene, a multicultural mélange that took the saccharine out of church music by giving it robust infusions of Andrae' Crouch and Walter Hawkins.
During the nearly one-hour performance, 1970s pop balladry underscores lyrics of religious conviction on such songs as "He Never Turned His Back on Me" and "Because of Whose I Am." There's a plaintive musing on the Passion called "Something to Think About," and a duet with the album's producer and frequent co-writer Dony McGuire on "Nothing Can Separate Me." On one hand, "You've Got a Friend" gets a dose of funk, while "Amazing Grace" receives a lovely and delicate a cappella harmony treatment. An up-tempo church rouser called "Blessed Be the Name" is equal parts Walter Hawkins and James Cleveland.
The nearly twelve-minute "Reba's Medley" allows Rambo to keep from disappointing audience members by delivering a handful of their favorite hits in short order. These include "Lift Him Up," "What You Say Is What You Get," "The Land of Oohs and Ahs," and a poignant "Over the Rainbow." Rambo's testimony, "He Gave Me Music," bookends her performance.
The program flows so smoothly that time just flies by. One surmises that encores were left off the album. If not, it wasn't for lack of audience enthusiasm. "It feels like church in here!" Rambo exclaimed at one point, as the audience supported her from the start.
Forty years after the recording of Lady Live, the album will, as it is said, introduce to some and present to others the Reba Rambo who played a not insignificant role in the modernization of religious music for a new generation of believers. Rambo, who was Christian when Christian wasn't cool, converted more than a few who never saw themselves liking church music.
Four of Five Stars
Picks: "Blessed Be the Name," "Nothing Can Separate Me"