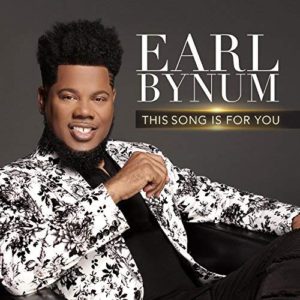 Earl Bynum
This Song is For You
Lrae Entertainment / Tyscot Records / HBK Media
(release date: October 5, 2018)
www.EarlBynumMusic.com
By Bob Marovich
Gospel music enthusiasts can be forgiven if they are so accustomed to hearing Minister Earl Bynum appearing with the Mount Unity Choir of Chesapeake, Virginia, that they forgot he is also a solo recording artist.
This Song is For You is Bynum's third solo album and first in nearly a decade. It showcases his meaty, muscular male voice, a sound that dominated gospel music until recent years, though the trend among males now seems to favor a high tenor acoustic style.
Nevertheless, Bynum's robust delivery on the soulful title track, which he acknowledges at the outset is somewhat different for him, ought to be the follow-up single to the remix of "Bless the Lord Oh My Soul (Remix)." A song of earnest gratitude, "This Song is for You" is the album's finest cut.
The CD contains energetic rhythm and praise pieces such as the opening selection "Give Him Praise" and "Mighty God;" electronica-infused urban adult contemporary songs such as "Brighter Day;" and hypnotic P&W ballads like "Rain." While these tracks will appeal to certain segments of saints, selections like "This Song is for You" and the equally compelling "Call Him," featuring Andra' Cross, are where vocalist Bynum shines.
Songwriters Kendall Wyatt and George Tyler, who also support Bynum as musicians, crafted several of the project's songs. Bynum's production is crisp and well balanced, and the BGVs handle their responsibilities with great professionalism.
For those who prefer Bynum with a choir, "Bless the Lord Oh My Soul (Remix)" is the choir track. It takes its inspiration from the opening lines of Psalm 103 as well as Andrae Crouch's 1973 hit, "Bless His Holy Name."
It's all good stuff, so let's hope another ten years doesn't go by before Minister Earl Bynum's next solo venture.
Four of Five Stars
Picks: "This Song is For You," "Bless The Lord Oh My Soul (Remix)"