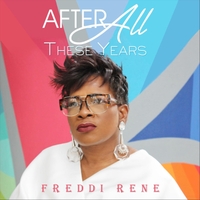 "After All These Years"
Freddi Rene
From the CD Guide Me
www.freddirene.com
By Bob Marovich
On its surface, "After All These Years," written by Carl Phillips, Gabriel Young, and producer Gregory G. Pearson, sounds like a conventional love song. But in the song's first few seconds, Freddi Rene asserts that the source of her love is the Lord.
The breezy contemporary single contains hints of Freddi's hometown of Detroit in its Whitfield-esque jazz chord progressions and complex melody. In fact, if you slowed it down, "After All These Years" sounds like something the Clark Sisters would sing.
Freddi Rene has sung background vocals for the Whitfield Music Group and with Derrick Starks Family and Friends Choir. This time, the BGVs are working for her.