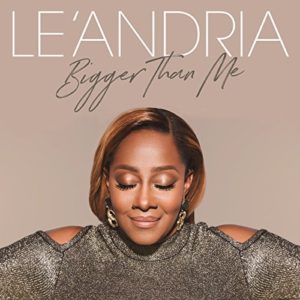 Bigger Than Me
Le'Andria
RCA Inspiration (release date: July 21, 2017)
By Bob Marovich
Bigger Than Me, Le'Andria Johnson's fifth album, is her best album since her 2011 debut, the chart-topping Music World Gospel release, The Awakening of Le'Andria Johnson.
Best because the songs, for the first time since Awakening, feel right for her, melodically and lyrically. This album is direct and honest rather than focused on inspirational messages with an undercurrent of crossover aspiration.
Song lyrics like "I've tried every shortcut" and have "gone through hell" ("Come Through") and "I took on way too much…now I have to pay the cost" ("Wait On You") will resonate with listeners who know about Johnson's trials and are all too familiar with their own. On "All I Got," Le'Andria recalls the passing of her brother just prior to recording the album.  It has filled her with a sadness that doesn't let her cry; putting one foot in front of the other is her only choice to overcome the tragic loss.
Bigger Than Me has a confessional tone. Le'Andria's staccato delivery and trademark raucous, squeezed-out shouts, a Mavis in the making, evoke a parched soul in search of living water. Not only is living water available (she describes the euphoria of sanctification on "Holy Ghost") but on "I Will Go," which feels like a contemporized English folk song, Le'Andria accepts God's call to discipleship even as she acknowledges her own unworthiness to accept the call. There's no telling God no, so on the quartet-fueled "Gone Too Long," she admits to her departure from God and declares an eagerness to rejoin the congregation.
In the end, trouble don't last always. Both the strutting title track and the churchy "Change is Now," a solo with warbling organ accompaniment, find Le'Andria walking with sufficient confidence to extend the same message of hope and encouragement to others. That friend who is "Bigger Than Me," she sings, is your friend, too.
With a breezy acoustic feel in parts and extroverted soulfulness in others, Bigger Than Me is consistently melodic and the musicians never get in the vocalist's way.
The final track, "Love Anymore," best summarizes the theme of Bigger Than Me: it's time to forgive, to forget, and to embrace love. Le'Andria Johnson sings this message to the masses as much as she sings it to herself.
Five of Five Stars
Picks: "Bigger Than Me," "Change Is Now."