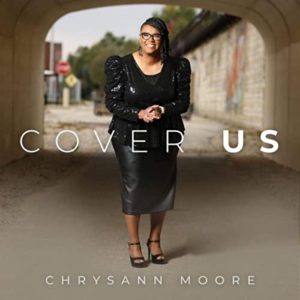 Chrysann Moore
Cover Us
Independent (release date: January 1, 2021)
www.chrysannmoore.com
By Robert M. Marovich
On Cover Us, singer-songwriter Chrysann Moore of south suburban Chicago offers samplings of both sides of the hyphened adjective. The nine album selections range from contemporary to P&W to traditional foot-stomping gospel and summarize her musical career over the past few years.
"Jesus, I'm Depending On You," a 2020 single, is a lovingly-rendered call for divine assistance in times of special trouble, because "I can't make it without you." Starting out in a quiet storm mood, the song concludes with percussive explosions of evangelistic singing. The title track and current single is a delicate, melodic prayer for spiritual anointing with a touch of electronica bordering Moore's echoing vocals.
Moore puts on her shouting shoes for "Thank You Jesus," a quartet-style declaration of appreciation to Jesus. It is on this song, released as a single in 2018, and its instrumental reprise, "The Johnson-Aires Groove," that Moore demonstrates why the Key of Gospel Music Awards nominated her Traditional Artist of the Year. So does "We Trust You Jesus," a church solo sung solely to Moore's own accompaniment on warbling organ. Though songwriter credits go to Moore, the song sounds as if it has been in the gospel catalog since the 1940s.
"Here is My Praise" is the only album track with a featured vocalist, Viola Burse, who participates in a fiery duet with Moore. The song's trad-contemporary arrangement owes a debt of gratitude to James Cleveland and Walter Hawkins.
"O Lord, We Worship You" and the megachurch-sized "We Praise You," the latter written by Maurice Fears Sr., are the album's P&W contributions. The sassy arrangement and lyric lines on "I'll Wait" evoke contemporary singers like Kierra Sheard and Tasha Cobbs Leonard. But by the vamp, Moore lets her traditional roots show once more with bursts of passionately sung preaching.
Live portions of the album were recorded at the Redeem COGIC in Joliet, Illinois, where Moore was featured vocalist on a 2005 project by Pastor Eugene Fears Jr. and the Redeem Voices of Victory.
Cover Us was produced by Maurice Fears Sr. with production on the title track by Rodney East.
Chrysann Moore grew up in the Church of God in Christ and now serves as the Music Director of Redeem Enrichment Ministries in Joliet, IL. She's a talented singer and shows great promise as a songwriter, so let's hope to hear more from her in the future.
Four of Five Stars
Picks: "Thank You Jesus," "We Trust You Jesus"