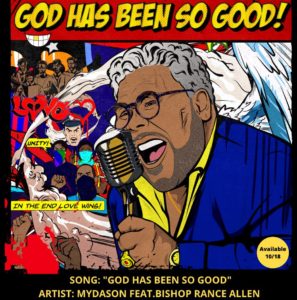 "God Has Been So Good"
MYDASON feat. Bishop Rance Allen
Brainstorm Music Company (release date: October 18, 2020)
By Robert M. Marovich
Bishop Rance Allen may be gone in body but his music lives on.
On "God Has Been So Good," he joins MYDASON at the lead mike, singing, shouting, and making those gut-wrenching growls that only he can do. The Prayer Garden COGIC Mass Choir of Flint, Michigan, rejoices in rich, thick harmonies as it supports both lead vocalists.
The song, written and produced by Bernard Jackson Jr. and Glenn "Sweety G" Toby, has the feel of something you might hear the Mississippi Mass Choir sing in the 1990s.