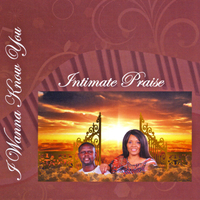 "I Wanna Know You"
Intimate Praise
From the Downbeat Records CD I Wanna Know You (2018)
https://store.cdbaby.com/Artist/IntimatePraise
By Bob Marovich
The California gospel duo Intimate Praise, comprised of Allyson Ross Moses and Dennis Flannigan, lives up to its moniker on "I Wanna Know You."
From their album of the same title, this love song to the Lord has that cozy California sound, complete with delicate taps of cymbals and sound effects of chirping birds straight out of Minnie Riperton's "Loving You."
The soft, alluring melody and arrangement evoke smooth soul/R&B duos of the 1980s, though the lyrics make it plain that the object of the duo's affection, and keeper of their most private secrets, is the Creator.
Intimate Praise's effusive vocal expression, carried through the album without much alteration, works well on praise songs like "I Wanna Know You" but seems a little out of place on "The Big Book," a straightforward lyric about the greatness of the Bible.
Flannigan and Moses began singing together as thirteen-year-old members of the First Union Missionary Baptist Church Youth Choir in Pomona, California, under the leadership of Pastor Samuel Jarnigan. Both have marvelous octave-jumping voices that work well in R&B and gospel, though fans of gospel smooth jazz will also find this duo appealing.