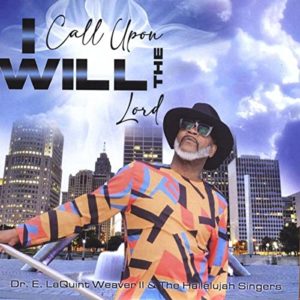 "I Will Call Upon the Lord"
Dr. E. LaQuint Weaver II & the Hallelujah Singers
(release date: September 1, 2021)
By Robert M. Marovich
Whenever I hear "I Will Call Upon the Lord," the latest single from Detroit choir Dr. E. LaQuint Weaver & the Hallelujah Singers, I am reminded of the city's iconic Joe Louis Fist sculpture. The song exemplifies in lyric and arrangement the majestic might of that fist.
The song's testimony to resilience "during these perilous times" and the choir's steadfast faith in the Lord in the midst of their enemies are manifested in thunderous staccato singing and a theatricality that leaps off the disc. Male and female vocal sections answer each another in rapid sequence as Weaver interjects with passages from Psalm 18. It's hard-hitting, extroverted, no-nonsense choir singing, Detroit style, a combination of churchy gospel and blues-based chanting.
Dr. E. LaQuint Weaver II & the Hallelujah Singers recently took home three statuettes from the Rhythm of Gospel Awards, including Rhythm of Gospel Artist of the Year.