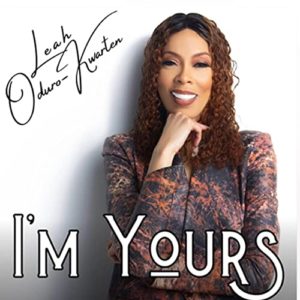 "I'm Yours"
Leah Oduro-Kwarten
Independent (release date: August 13, 2021)
By Robert M. Marovich
Like Leah Oduro-Kwarten's 2018 single "He Worked It Out," her new outing, "I'm Yours," is expansive in production and extroverted in delivery. Unlike her previous single, it moves with a more contemporary strut.
Leah delivers the song's premise—a request for conversion from an old life to a new and more fulfilling one—with the same outpouring of passion she showed while leading 2016's "All Power" for Dr. Cynthia Nunn and the Illinois Midwest Ecclesiastical Jurisdiction Mass Choir. While Leah's sweet spot is churchy traditional gospel, with "I'm Yours" she shows she can deliver a contemporary piece with just as much vocal verve.
Lady Leah is the 2020 Ms. Rhythm of Gospel and took home the Contemporary Female Vocalist of the Year honor at this year's ceremonies. She also makes a wicked delicious sweet potato pie!