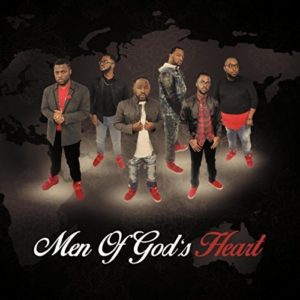 Men of God's Heart
self-titled
Independent release; release date: March 24, 2017
Available at digital music retail outlets
By Bob Marovich
Men of God's Heart is a six-member contemporary quartet that can easily draw comparisons to the Rance Allen Group, the Mighty Clouds of Joy, and the Winans.
In fact, on "Wilderness," a track on their self-titled album, the group pays tribute to the Winans, suggesting that the Detroiters are direct influences on the Columbus, Ohio, male vocal group.
Men of God's Heart delivers the meatiness of traditional gospel quartet—the hard singing, the shouting, the preaching moments—with heavy instrumentation and arrangements that run from funky to soulful. This mix is best exemplified on the "groove mix" of "Move Lord," while the group's breathy harmonies are most prominent on slower tracks, such as "Secret Place" and "Lay It All Down."
When it is not giving outright gratitude to God, the album emphasizes the urgency of salvation. On "Signs," Men of God's Heart alerts the listener that poverty, disease, and even snow in spring are signs of the judgement. The singers call on Christians to "work while it is day" ("Work") so lost souls can experience a "divine do-over" that frees them from their past and offers a path on which they can enter a new life plan ("Jubilee").
"Pain," one of group member Oscar Stone's several compositions on the album, is the most interesting track. It draws a persuasive parallel between the love of a father who works through physical pain to provide for his family to Jesus's painful dying on the cross to express the ultimate love for his people.
Men of God's Heart, the album and the group, draws sufficiently well from both traditional and contemporary formats to appeal to both old- and new-schoolers equally.
Three of Five Stars
Picks: "Thank You," "Move Lord (Groove Mix)"