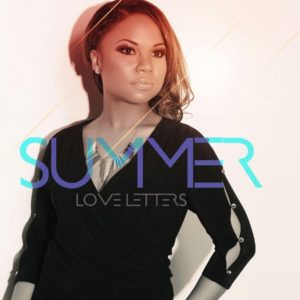 Summer
Love Letters
Rich Life Records (2016)
www.summerofficialpage.com
By Bob Marovich
"I'm in love with Jesus / The greatest love I've known;
For even when I've left you / You claimed me as your own."
Thus sings Summer Pearson, aka Summer, on "Key To My Heart," one of eight selections on her debut solo release, Love Letters.
True to its title, the album features worship songs disguised as love letters to the Lord. The letters vary from gushing and wide-eyed infatuation, as on the breezy and acoustic "The Real Thing" and "Love You Like Crazy," to the more dramatic and poignant, as on "You Are Good" and the aforementioned "Key To My Heart."
On "You Are Good," Summer shares that she can count on God even when she is "in the fight of my life." It's here, and at points elsewhere in the album, that we find the personal pain behind the praise. On "Promised (Never Alone)," for example, Summer tell us she is "broken" and "unworthy," and that "I thought that I could find in people / What only you can give."
"Release" is where Summer shares her most acute anxiety, but from the grateful perspective of deliverance. Nevertheless, she hints at a destructive relationship that left her "tired of being tired": "I don't want to drink the poison I release."
Summer, a law school graduate who worked as an attorney for the Federal government but since 2013 has pursued music and public speaking full-time, co-wrote the songs with her executive producer, Vincent "V.Rich" Richardson. Richardson also contributes some fine piano work throughout.
Summer possesses a pretty pop soprano and lofts high notes over the stave every so often. As cathartic as the album must be to Summer, Love Letters is to the listener a reminder of the complexities of any relationship, heavenly or otherwise.
Three of Five Stars
Picks: "You Are Good," "Key To My Heart."